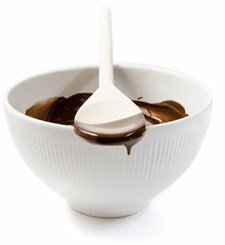 Recipe Ingredients (Serves 4)
Mousse
Method
Beat the eggs, the yolks and the dark chocolate 'bain-marie' adding the rum.
Let cool and then add the whipped cream.
Fill the shapes with the mixture and put in the fridge for at least two hours.
Presentation
Melt the chocolate for the covering together with the cocoa butter and put in a sprayer. Take the mousee out of the shapes and cover by spraying the chocolate evenly. Put the mousse in the center of the dish and decorate with the milk chocolate, white chocolate, pistachios and raspberry sauce.
Recipe by Heinz Beck