Chocolate Cherry Peanut Butter Cups (Gluten Free) Recipe
Really quick and easy, these cups are great to make with kids and taste like a real treat, and are naturally gluten-free. They can also be made vegan by swapping honey for agave syrup. (prep time 15 mins, serves 10).
Love Fresh Cherries in conjunction with the UK's National Cherry Association, released some tantalizing recipes to coincide with International Chocolate Day on the 13th September.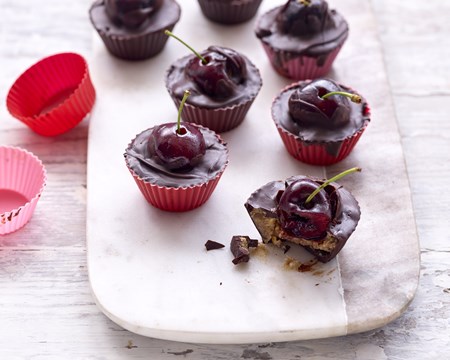 With half-term on the horizon, this is a great recipe to do with the children on a rainy day.
Ingredients:
100g dark chocolate, broken into pieces
50g peanut butter
1 tsp honey (or agave syrup)
Pinch sea salt
10 fresh cherries, pitted
*You also need 10 mini paper or silicone cases or why not try a delicious edible chocolate cup?
Method:Combine the peanut butter with the honey and stir.
Spoon the mixture into the chocolate cases to just below the rim.
Top with a cherry pushing it down into the mixture slightly. Then spoon over the remaining melted chocolate enclosing the mixture completely. Chill until set. They can remain in the fridge, covered for 3-4 days or you can freeze them defrosting for 5-10 minutes before eating.
(picture courtesy of UK National Cherry Association).