White Chocolate Truffles with Cherry, Coconut and Hazelnut
In celebration of the recent International Chocolate Day (13th September), the UK's National Cherry Association has released some tantalizing chocolate & cherry recipes.
Why not have a go at making your own White Chocolate Truffles with this quick and easy, Love Fresh Cherries recipe (prep time 20 mins, serves 15).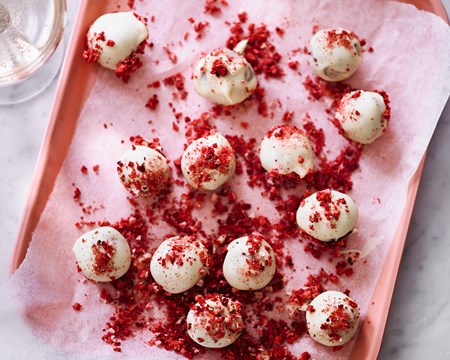 These quick and easy chocolate truffles pair cherries with white chocolate for a juicy and indulgent treat, and work for gluten-free diets.
Ingredients:
75g pitted fresh cherries
1 tbsp brandy or Kirsch liquor
50g ground hazelnuts
90g pitted medjool dates
1 tbsp cocoa powder
4 tbsps desiccated coconut
2 tsps coconut oil
150g white chocolate finely chopped
4 tbsps dehydrated fruit powder like cherry, raspberry or strawberry
Method:
Place the cherries, brandy, hazelnuts, dates, cocoa, coconut and coconut oil in a food processor and blend until very smooth. Roll out the balls, place on a tray and freeze until firm.
Place the chocolate in a glass bowl and microwave for 1 minute until smooth. Stir well. Line a small tray with non-stick baking paper. Using a toothpick, dip each ball into the chocolate, and shake off the excess. Place on the tray and sprinkle with the fruit powder. Repeat with the other truffles. Refrigerate when done until firm, about 10 minutes.
(picture courtesy of UK National Cherry Association).