Parsnip, Apple and Chocolate Cake recipe.
Perfect for the Summer, with their light texture, these Parsnip, Apple and Chocolate cakes will delight & impress.
Whether that's a summer picnic, cake bake stall, summer fayre or garden party, this recipe uses Callebaut milk chocolate (823 recipe) and Callebaut dark chocolate - 54% cocoa content (811 recipe), plus delicious chocolate pencil decorations for a professional finish.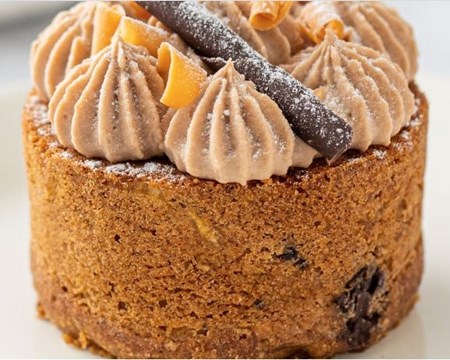 The recipe is in two parts - the cake and the milk chocolate mousse.
For the cake, you'll need:
150g grated parsnip
100g grated apples
115ml vegetable oil
150g dark brown sugar
3 eggs
150g wholemeal flour
5g baking powder
2g ground cinnamon
5g grated ginger
Method.
Grate the parsnips and apples and stir through the vegetable oil and dark brown sugar.
Add in the eggs and mix well.
Sieve the flour, baking powder and cinnamon together then fold into the mix.
Fold through the grated fresh ginger root and dark chocolate callets (chips).
Spoon the cake mixture into cupcake cases and bake in a pre-heated oven 180C/350F/Gas 4 for 10-15 minutes.
For the milk chocolate mousse, you'll need:
Method.
Bring the whipping cream to the boil.
Cool to 80 degrees C and then pour over the milk chocolate chips.
Mix well to form a smooth ganache.
Decoration.
Once the cakes have cooled completely, using a star nozzle, pipe a swirl of chocolate mousse on top of the cakes and decorate with a dark chocolate pencil.
Embellish with flavoured chocolate curls (blossoms) e.g orange or caramel, and dust with icing sugar.
If you enjoyed following this chocolate recipe, why not take a look at our other indulgent chocolate make & bake recipes?
*Recipe provided by Callebaut.
Take a look at our Callebaut range of chocolate couvertures and decorations. Order before 4pm (Mon to Fri) for same day dispatch. Next day delivery options available.

#recipe #homebaking #cakemaking #cakedecoration #cookingchocolate #Callebaut #Belgianchocolate