Callebaut dark chocolate chips (callets) 70%
By Callebaut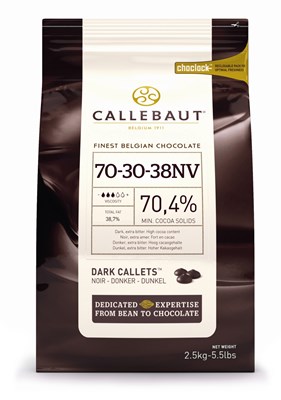 400g bag
£5.85
Earn 5 Loyalty Points
List price: £6.16Save £0.31
Net weight

400g
2.5kg bag
£28.04
Earn 28 Loyalty Points
List price: £35.06Save £7.02
Net weight

2500g
10kg bag
£107.36
Earn 107 Loyalty Points
List price: £134.20Save £26.84
Net weight

10000g
Description
Ingredients
Reviews5
Description
Callebaut 70% dark chocolate chips
Belgian high quality, 70% dark chocolate chips (callets) by Barry Callebaut. Callebaut have created this chocolate couverture for easy melting and a wide range of chocolate use from moulding & enrobing to melting and baking.
Buy bulk Callebaut chocolates at wholesale prices with no account required, no minimum order and fast, next day delivery within the UK.
A Belgian dark chocolate without bitterness due to a lower cocoa content so suitable for a wider range of tastes.
These dark chocolate chips are perfect for; chocolate fountains, cakes, desserts, baking, decoration, chocolate fondues, making chocolates, enrobing and mould making.
Remember to register to receive loyalty points on your orders in checkout, if you haven't done so already. If you are a regular customer or business ordering Callebaut in volume you can redeem these loyalty points and achieve considerable savings on all your subsequent orders.
Prices shown include VAT.
Standard 2-4 day delivery from £3.95.
Next day delivery is £5.95. Available for orders placed before 4pm.
Free Standard UK delivery on orders over £200
Dietary Information
Flavour profile
Acidity
Bitter
Fruit
Roast
Ingredients
Callebaut 70% Dark chocolate chips (callets) ingredients
• Belgian Dark chocolate Couverture (Min cocoa 70%)
• Sugar
• Fat reduced cocoa powder
• Cocoa mass
• Emulsifier; Soya lecithin
• Natural vanilla.
Certified Kosher
These dark chocolate chips MAY CONTAIN TRACES OF DAIRY.
Nutrition Facts:
Nutrition per 100g
Energy 539kCal / 2255KJ
Fat 39g of which saturates 23g
Carbohydrate 31g of which sugars 26g
Protein 8.8g
Salt 0.02g
Please note: Viscosity indicator on outer packaging may differ from that illustrated.
Reviews5
5Absolute perfection!
Posted 16 April 2017 by SUSAN
5Absolute perfection!
Posted 28 June 2016 by Veronica
5Absolute perfection!
Posted 21 November 2013 by CAROLINE
5Absolute perfection!
Posted 21 November 2013 by CAROLINE
5Absolute perfection!
Posted 23 April 2013 by Joanne

Make it personal
Free gift message with every order, or add a greeting card from just 95p

Earn Loyalty Points on every order
Save them up and give yourself a treat!