Only the finest chocolates this Christmas...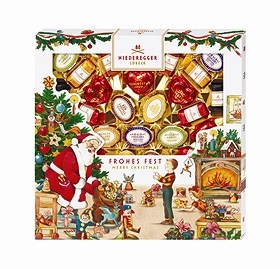 The World's finest chocolatiers have really excelled this Christmas and we are very pleased to be able to present to you some of the finest Christmas chocolate gift ideas, from the World's most respected chocolate makers.
German marzipan masters, Niederegger of Lubeck, have an amazing array of the finest quality marzipan delights, in festive Christmas selection boxes, including a liqueur range that features new, orange liqueur & cherry brandy marzipan discs.
Whilst Belgian chocolatiers, Godiva, have a tempting seasonal chocolate selection box for all budgets and tastes. These include a new limited edition chocolate truffles gift box in 12 & 24 chocolate box sizes and 5 new single-origin chocolate bars from Mexico. 68% dark, dark with orange & ginger and a 'blond' salted caramel bar, all make great Christmas gifts for the chocoholic in your family.
We've also a plethora of exciting new single origin & single plantation chocolate bars for chocolate connoisseurs, including two online exclusives to Chocolate Trading Co from Suffolk based bean to bar chocolate maker, Pump Street Bakery.
The limited edition St Vincent and Solomon Islands chocolate bars capture all the evocative flavours of these locations; the Caribbean St Vincent with it's lush, intensely fruity notes and a finish reminiscent of vintage rum & the Solomon Islands bar, crafted with cocoa from David Natel's cocoa farm on Guadalcanal Island, with its notes of lime and citrus over a deep chocolate base with a hint of banana.
From Michel Cluizel, who's milk and dark chocolate selection boxes are perennial favourites, we have new, smaller, milk and dark single estate chocolate selections that would make ideal stocking fillers.
Very exciting is the new single plantation bar from Michel Cluizel – the El Jardin. The first new single-plantation chocolate bar in many years. Made from cocoa from the El Jardin cocoa plantation in Columbia, the luxurious surroundings of the Ariari River which give the cocoa trees their richness, result in a full flavoured chocolate bar with notes of honey, red berries and caramel. A great length of flavour.
Scottish based Chocolate Tree have also introduced a new single origin dark chocolate bar; the Chillique is named after a remote village of the same name, in a remote mountain valley of Northern Peru, where the cocoa is grown. Extremely fruity and acidulous, our verdict: "You'll be amazed its 70% cocoa content".
Last, but not least, we have a Santa sleigh-full of Christmas chocolate novelties, sure to delight children of all ages. Great stocking filler ideas, with many available in gift bag options and bulk quantities – ideal for the office or work place party.
From white chocolate snowmen to decorated chocolate Father Christmas, reindeer, angels and gingerbread man figures. All made from high-quality chocolate.
We have traditional Christmas Tree decoration chocolates complete with gold hanging chords; Nutcracker soldiers, Angels and Father Christmases, solid mini milk chocolate foiled novelties like Santa faces, elves, angels, snowmen and even Elks, you can give as a token gift, or have fun and add your own hanging chords to & make your own Xmas Tree decorations with the children.
Sending a chocolate, Christmas gift to someone special couldn't be easier, and we've even included our new chocolate hamper gift boxes. Simply add an empty hamper box to your order and we'll carefully pack the contents inside the hamper box, complete with stylish hamper filling, and finish with a quality ribbon to make a very personal chocolate present. Why not include a vegan or dairy free range of items for those with particular dietary restrictions? Perhaps a hamper for the family – chocolate truffles or a selection box for the adults and any of our high-quality chocolate novelties for the kids.