Valrhona - Caraibe, 66% dark chocolate chips
By Valrhona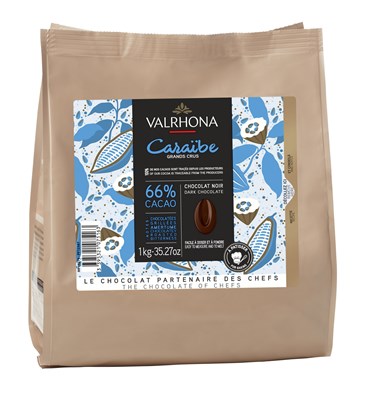 250g bag
£11.99
Earn 1 Loyalty Points
List price: £13.45Save £1.46
Net weight

250g
Small 1kg bag
£32.99
Earn 32 Loyalty Points
List price: £35.75Save £2.76
Net weight

1000g
Large 3kg bag
£76.50
Earn 76 Loyalty Points
List price: £93.00Save £16.50
Net weight

3000g
Description
Ingredients
Reviews5
Description
Valrhona Caraibe dark chocolate chips
An economical 250g, 1kg and 3kg bulk bag of superior quality, Caraibe dark chocolate chips from Valrhona.
The Valrhona Caraibe is a fine dark chocolate couverture (fine cooking chocolate) of Grand Cru quality. Made exclusively from the Trinitario cocoa bean from the Caribbean islands.
Valrhona Caraibe chocolate has a 66% cocoa content providing a moderate dark chocolate with not too much bitterness and a smooth melt and lingering finish.
These dark chocolate chips of Valrhona quality and ease of use are created for wide use in baking, chocolate decoration and all applications of chocolate making. Easy to melt chips.
Valrhona, a French master chocolate maker..
Since 1922 the vocation of Valrhona has been to create exceptional gourmet chocolate, while respecting the artisan's know-how and fine French taste. Dedicated to quality, Valrhona selects and purchases its cocoa beans directly from choice plantations, thus securing an exclusive supply of Grand Crus from South America, the Pacific Ocean and the Caribbean. Valrhona was one of the first chocolatiers to describe their chocolate in a similar fashion to wine with the labelling of such creations as grand cru, single origin, single estate and even vintage chocolate. Valrhona is regarded as being amongst the best of the few French chocolate makers today creating their chocolate from bean to bar (cacaofevier). Valrhona couverture is widely used by pastry chefs around the world with a reputation for superior quality and workability.
Dietary Information
Flavour profile
Acidity
Bitter
Fruit
Roast
Ingredients
Valrhona Caraibe dark chocolate ingredients
Cocoa beans (min 66%)
Sugar
Cocoa butter
Emulsifier: Soya Lecithin
Natural vanilla extract
This Caraibe dark chocolate may contain dairy, nut, gluten, egg traces
Nutritional information per 100g:
Energy 2376kj / 572kcal
Fat 40g of which saturates 24g
Carbohydrate 40g of which sugar 35g
Protein 8.2g
Salt 0.04g
Reviews5