French Chocolate Truffles 12/18/24 Gift Box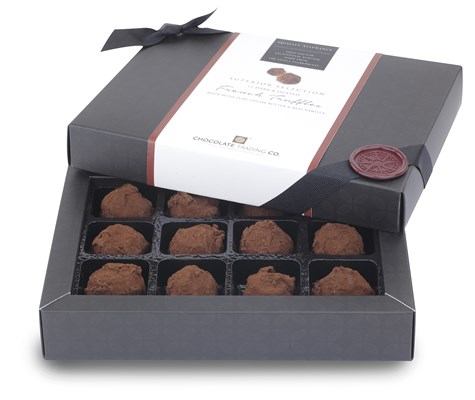 Make it personal
Create your own unique gifts with our personalised gift service
Description
The most authentic and pure of chocolate truffles. These superior quality truffles use single origin chocolate from fine flavour, Trintario cocoa grown on a single estate in Brazil and so with an emphasis on the enhanced flavour profile of the chocolate. An outstanding flavour profile of dried fruit, red berries and spices­ with a long caramel finish. Presented in a sophisticated gift box complete with gros grain ribbon and embossed wax seal.
A densely indulgent ganache centre with a light covering of solid dark chocolate, rolled in bitter cocoa powder. A true, fine chocolate experience, without excessive sugars, flavourings or vegetable oils and using only Bourbon vanilla and cane sugar. Outstanding length of taste.
Dietary Information
Flavour profile
Acidity
Bitter
Fruit
Roast
Ingredients
Chocolate truffle ingredients
Mangaro Plantation Dark Chocolate, Min Cocoa Solids 71%.
Cocoa, Sugar, Anhydrous BUTTER, CREAM, Cocoa Butter, Stabiliser; Sorbitol Syrup, Cocoa Powder, Inverted Sugar, Emulsifier; Rapeseed Lecithin, Bourbon Vanilla Pod.
Allergy Advice: For allergens, see ingredients listed in BOLD. May contain: NUT, MILK, GLUTEN traces.
Nutritional information per 100g:
Energy 2399.3kj / 574kcal
Fat 46.69g of which saturates 29.98g
Carbohydrate 33.93g of which sugars 23.4g
Protein 5.5g
Salt 0.02g