Zotter – A Philosophy of Chocolate Quality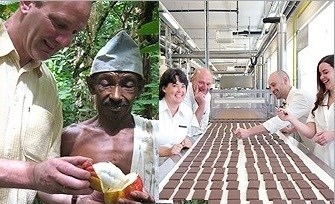 The Zotter range, recently introduced to our collection of the World's finest chocolates, rightly deserves its place amongst the best chocolates in the World, with its many awards and accolades.
But it's not just the passion for producing truly exceptional bean to bar chocolate bars, using only organic, fair trade ingredients. For Josef Zotter, its building on the quality and regional culture of the cocoa from the outset, to ensure that the cocoa growers and workers are treated fairly, paying more than stipulated by fair-trade rules. For Zotter, quality is the highest priority.
Theirs is a policy of complete transparency and has led to many innovations including a vegan chocolate range, and the awarding of numerous awards for both their chocolate and entrepreneurship. Zotter has extended this philosophy into a fantastic factory tour & tasting experience, expanded to include other organic foods.
This "environmental idea" has now been exported to China, with Zotter opening a second 'Choco Shop Theatre' in Shanghai.
With their bright bar wrappers illustrated by artist Andreas H. Gratze, some of the more noteworthy bean-to-bar, chocolate bars in the Zotter range include the Zotter Labooko Nicaragua 50% milk chocolate bar. This high-cocoa content milk chocolate bar, made with organic ingredients, has been called 'the best milk chocolate in the world'.
Their filled chocolate bars are hand scooped – layers of sumptuous fillings and chocolate are built up to produce truly exceptional taste experiences. The phrase 'Hand Scooped' introduced by Zotter himself, is used to make the distinction between his and conventionally poured chocolates.
Hand-scooping or filling as a chocolate production method also allows for greater creativity in the flavour combinations possible, which allows for the producing of new varieties again and again.
With 29 different chocolate bars from the vast Zotter chocolate range to choose from, we're sure you'll find the perfect Zotter chocolate bar for you. From butter caramel milk chocolate bars and dark chocolate candied ginger bars to a sumptuous almond cream and honey crisps filled bar.
Specialist bars like their Red Wine Rush, Lemon Curd & Orange Lord, Tequila and Redcurrant Chilli Rock, mingle with their renowned, award winning Labooko range of single origin, bean to bar, Milk & Dark chocolate bars. All fair trade.
For those with a passion for nougat, we have 3 bars from Zotter's Nougsus range: Peanut, Hazelnut and Caramel Fudge chocolate bars. Truly melt-in-the-mouth experiences.
See our entire Zotter range here and take time to peruse the many taste sensations available. Make use of our own tasting notes and flavour profile's to help you with your online order, or why not be adventurous and try something completely new?