Superior Selection, High Cocoa, Dark Chocolate Ganaches 12/18/24 Gift Box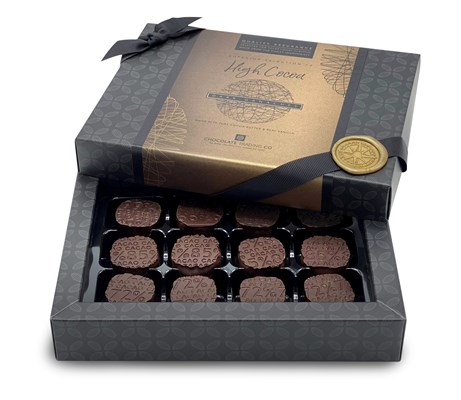 High Cocoa Dark Chocolate Ganache Gift Box
Box sizePlease choose
12 chocolates

In stock

£15.95

18 chocolates

In stock

£22.95

24 chocolates

In stock

£29.95
Make it personal
Create your own unique gifts with our personalised gift service
Description
A very special box of dark chocolate ganaches with 72%, 85% and 99% cocoa content. Given the high quality of cocoa and sweeter crisp shell, these melt in the mouth dark chocolate ganaches are surprisingly not at all bitter or astringent.
These fine chocolates are for lovers of superior quality dark chocolate and a ganache/truffle centre. Rich, indulgent, smooth and packed full of flavour - each chocolate ganache is like a small chocolate dessert.
A true, fine chocolate experience, without excessive sugars, flavourings or vegetable oils and using only Bourbon vanilla and cane sugar. Outstanding length of taste.
Presented in a sophisticated gift box with a special metallic gold print, complete with gros grain ribbon and embossed wax seal.
CACAOGUSTO 72%
Starting off the selection with a high cocoa, bittersweet, dark chocolate ganache containing 72% cocoa. The Cacaogusto is at the balancing point of bittersweet and will be to most peoples taste that enjoy fine dark chocolate.
CACAOGRANDE 85%
Tipping the balance into bitter, this dark chocolate ganache contains 85% cocoa and tests your palate with an 'above average' level of cocoa content. You may be surprised, given the superior quality and sweeter shell, it's not quite as bitter as you would expect.
CACAOFORTE 99%
Containing the highest amount of cocoa with less than 1% sugar, this chocolate turns from bittersweet to bitter. Note the absence of any burnt astringency often found in lesser quality high cocoa chocolates.
Ingredients
Contents may vary.
Contains dairy. May contain wheat & gluten, Nuts.
Soya lecithin free.

Make it personal
Free gift message with every order, or add a greeting card from just 95p

Earn Loyalty Points on every order
Save them up and give yourself a treat!