Superior Selection, 18 Single Origin Chocolate Ganaches Gift Box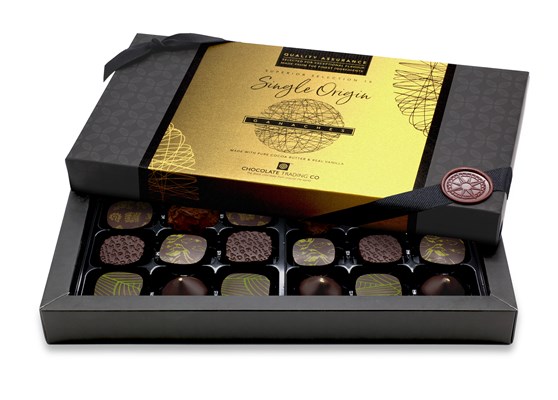 £22.95 incl VAT
Earn 23 Loyalty Points
Net weight

205g
Make it personal
Create your own unique gifts with our personalised gift service
Description
An exceptional selection of superior quality, dark chocolate ganaches, made using single origin, indeed single plantation, cocoa. A rich and flavoursome journey of individual flavour profiles resulting from each single origin/plantation.
Presented in a sophisticated gift box with a special metallic gold print, complete with gros grain ribbon and embossed wax seal.
Each ganache with a crisp dark chocolate shell and a rich and melting ganache centre. These very special chocolates truly deserve to be savored.
Enjoy…
TRUFFE À LA CRÈME
A rich, dark chocolate ganache using single estate cocoa from the Riachuelo plantation in Brazil. A harmonious mix of toasted cocoa, dried fruit, red berries and spices­ with a long caramel finish. Rolled in cocoa powder.
CYRANO
Created from an exquisite blend of Trinitario cocoa, from the Los Ancones plantation, on the island of Santo Domingo in the Caribbean. Offering a complex assortment of fresh fruit notes including apricot, peach and even green olive.
PALET LA LAGUNA
Created from fine flavour cocoa grown on the La Laguna plantation in Guatemala, birthplace of one of America's oldest civilisations. A light, acidulous and fruity flavour profile containing notes of plum, roasted cocoa and yellow fruits.
PALET MOKAYA
Single origin 'Mokaya', dark chocolate ganache from Mexico using fine flavour Trinitario cocoa. A beautifully smooth and full flavoured chocolate ganache offering notes of dried fruits with little acidity and great length of taste.
PALET VILA GRACINDA
Created using Forastero cocoa beans from the Vila Gracinda plantation, found on the island of Sao Tome. A flavour profile of earthy, liquorice notes contrasting with a sweet, tropical fruit edge which balance perfectly.
PALET EL JARDÍN
Created from fine flavour cocoa from the El Jardín plantation in Colombia within the floodplains of the Ariari river. Notes of honey, red berries and caramel combined with roasted and peppery notes.
Ingredients
Contents may vary.
Contains dairy. May contain wheat & gluten, Nuts.
Soya lecithin free.