New Chocolate Truffle Flavours from Booja Booja.
Four delicious new flavours of their chocolate truffles just released and available to order online now!
STOP-PRESS! Win a new flavours Booja Bundle in our July Competition - Enter our Booja Booja competition here!
Booja-Booja make their chocolates in Norfolk, England to the highest of standards & have received many awards for their chocolates. Booja Booja's chocolate truffles are 100% organic, dairy, wheat & gluten free, suitable for vegetarians & vegans and to top it all are non-GMO.
Now they've launched new chocolate gift boxes including: Chocolate Salted Caramel, Deeply Chocolate, Chocolate Orange and Honeycomb Caramel chocolate truffles.
There's also a brand new Signature Collection Truffles gift box, with 16 individual cocoa-dusted chocolate truffles, featuring the 4 latest flavours. Each tempting chocolate is pure indulgence, made from the very highest quality ingredients, that are organic and dairy free.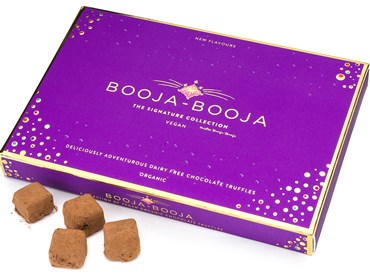 Described as "mouth-watering" and "divine" by our customers, choose from our entire Booja Booja chocolate truffle range here, or choose from the selection below...
#booja #chocolategift #truffles #norfolk #vegan #organic #dairyfree #chocolateorange #honeycomb