New Chocolate Pencils from Callebaut.
Callebaut introduce 4 new decorative Marbled Chocolate Pencils. The ideal decorative cake finish with a twist.
Created for decorating cakes with ease. Simply use around the outside of celebration cakes or as a decorative cake or dessert topping, to turn something ordinary into a show-stopper!
Each chocolate pencil 'twists' to a slight point at their end, hence the name 'Pencils', unlike chocolate Cigarellos, which are more uniformed with a neater, plain edge finish.
Available in 4 exciting new finishes, choose from Marbled Green, Marbled Orange, Marbled Pink and regular Marbled chocolate pencils, made using only natural ingredients and cocoa butter.
These 4 new marbled finishes from Belgian chocolatiers, Callebaut, join their plain Dark Chocolate and White Chocolate Pencils, giving cake makers and cake decorators some delicious new cake & dessert decoration options.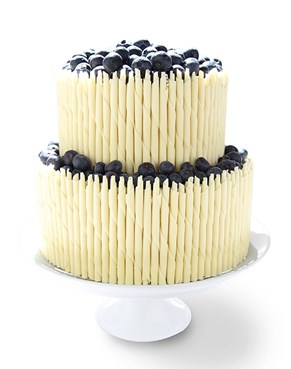 Each box contains approximately 110 individual pencils, which should be enough to go around the circumference of a *10inch round cake. (*cake tin diameter).
Chocolate pencils measure 200mm long by 8mm diameter and are produced by Callebaut under their Mona Lisa chocolate decorations range brand name.
Chocolate Pencils (& Cigarellos) are a popular cake decoration and can be used whole or cut to the required size using a hot knife. Easily fixed to the side of your cake by pressing into a ganache or butter-cream icing surface.
Top Tip! Use a ribbon, tied around the middle of your cake to help secure your Chocolate Pencil / Cigarellos finish and add an extra decorative touch.
Top Tip! Chocolate Pencils (& Cigarellos) are fragile so always allow for a few extra, to account for any breakages. Chocolate Pencils & Cigarellos are sold on weight, rather than quantity, and box quantity sizes are approximate.
#callebaut #chocolate #pencils #cigarellos #cakedecoration #baking #birthdaycake #anniversarycake #celebration #party #chocolatedecoration