Cake decorating made easy!
Our range of luxury chocolate decorations makes it easy to turn an ordinary cake into a show-stopper. From chocolate cigarellos to chocolate panels and hand made chocolate roses.
Baking and cake decorating is a great activity to plan with children, especially during school holidays.
The daughter of one of our customers, sent these pictures of some delicious cupcakes, decorated with a swirl of chocolate ganache and finished with one of our duo-chocolate panels, which were cleverly cut into triangles.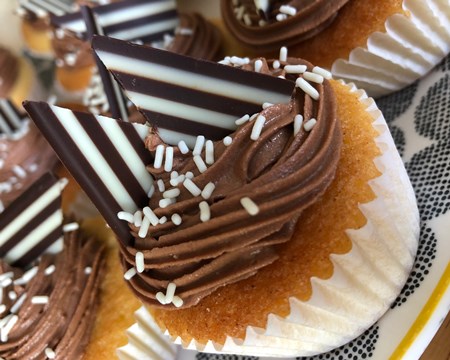 Piped Chocolate Ganache with Duo Chocolate Panels by Liv Reader
A modern twist on the staple fairy cake?
We've everything you need for your budding pastry chefs, with a huge selection of luxury chocolate chips, and a range of chocolate decorations and sprinkle toppings that include real Belgian chocolate vermicelli and crisp-pearls.
*Photo's courtesy of Liv Reader