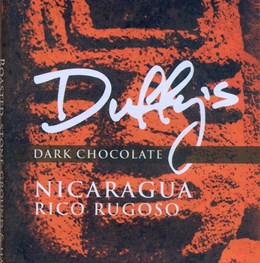 Chocolate Trading Company is pleased to introduce 3 new dark chocolate bars from UK Bean-to-Bar chocolate maker Duffy's from Red Star Ltd in Lincolnshire.

One of only a few true bean-to-bar chocolate makers (cacaofevier) in the UK, Duffy's chocolate is made from a single year's harvest of fine flavour cocoas and single origins from around the world.
Duffy's 3 new luxury dark chocolate bars, now available to buy online from the Chocolate Trading Co, continue their tradition of exceptional flavour profiles.
Duffy's Panama Tierra Oscura 100% is an extra bitter, 100% cocoa content dark chocolate bar, without any sugar. Very popular with those chocolate lovers who prefer an intense, bitter cocoa hit. With notes of liquorice and red fruits, this dark chocolate bar is as healthy and pure as chocolate gets, made with cocoa from Panama.
Whereas, as its name suggests, Duffy's Nicaragua Rico Rugoso 76% dark chocolate bar is made from Rugoso Criollo cocoa beans originating from Nicaragua. A rather extra special chocolate bar made from fine flavour cocoa beans, which require a heavy roast and are stone ground for 3 days.
Lastly, we have Duffy's Nicaragua Chuno 70% dark chocolate bar. With subtle notes of red fruit and roasted chestnuts, this complex, yet subtle dark chocolate bar shares its cocoa origins with Duffy's Rico Rugoso bar.
Duffy's chocolate have long held a tradition of producing bars without soya lecithin. Their 3 new dark chocolate bars are not only soya lecithin free, they are also alcohol free, dairy free, wheat & gluten free and are suitable for both Vegans and Vegetarians alike.
Visit our online chocolate store now and discover the range of Duffy's luxury chocolate bars for yourself. With next day delivery available (orders placed before 4pm Mon to Fri).