Superior Selection Connoisseur's Mix Chocolate Box, No.1.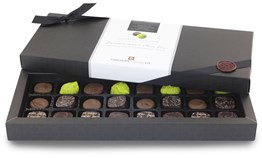 An exciting new addition to our Superior Selection range, is the Limited Edition, Connoisseur's Mix, chocolate selection box.
Presented in our sophisticated chocolate gift box, complete with gros grain ribbon and embossed wax seal, each chocolate has been especially selected for the purity of its ingredients and outstanding flavour.
The Connoisseur's Mix differs from our other Superior Selection chocolate boxes, in that each numbered edition will feature a different selection of chocolates, allowing for a sumptuous, new tasting experience each time.
The
Connoisseur's Mix No1 selection box
features these 6 different recipes:
A milk chocolate almond and hazelnut praline with added caramel pieces.
Sweet Croquant (caramelised almonds and sugar) filled with an almond and hazelnut praline.
Milk chocolate combined with apple and Calvados over a layer of caramel.
Dark chocolate ganache with cranberries and Espelette sweet red pepper.
85% dark chocolate ganache.
Dark chocolate ganache combined with Yuzu fruit (a rare citrus from East Asia).
Each edition will be numbered, so you'll know when the contents have changed. The chocolates selected for inclusion are based on availability, and so offer a luxurious chocolate assortment in various combinations and quantities.
This flexibility over the chocolate contents also allows us to be able to discount the price of the Connoisseur's Selection by 30%, when compared with our usual Superior Selection box prices.
The Connoisseur's chocolate selection box, with its lower price and changing selection will especially appeal to those chocolate lovers, who like to treat themselves on a regular basis, or those who are looking for a very special chocolate gift.
Available in 12 chocolate, 18 chocolate & 24 chocolate selection box sizes, with prices from just £9.79; our Connoisseur's Mix, Box No.1 is now available to buy online.