Barry Callebaut - Ruby Chocolate innovative breakthrough!
10kg, 2.5kg, 1kg, 500g, 200g & sample bags now available!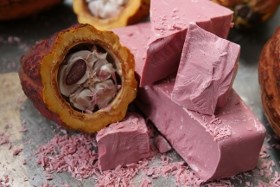 Many of you will have noticed significant press coverage talking about Barry Callebauts introduction of a fourth chocolate category to go alongside traditional Dark, Milk and White Chocolate.
This unique innovation has been more than 13 years in development and is called 'Ruby' chocolate.
Ruby Chocolate is made from the Ruby cocoa bean. The unique processing unlocks the flavour and color tone of the Ruby bean. The specific taste experience of Ruby can best be described as an intense sensorial delight; a sensual tango of berry-fruitiness and luscious smoothness. The fresh berry-fruitiness and color tone are naturally present in the Ruby cocoa bean. No berry flavour nor color has been added.
Ruby chocolate is now available in 10kg and exclusive to Chocolate Trading Co, 1kg, 500g & 200g bag sizes.
Update! New for April 2019 - Callebaut Ruby Chocolate is now available in a 2.5kg bag size - click here.
To see our present Callebaut range, including their new Ruby Chocolate, please follow this link - click here.