2018 – An exciting year for Premium Chocolate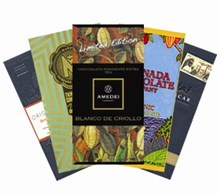 Our online chocolate selection of fairtrade chocolate, organic chocolate and single origin chocolate bars continued to grow in 2017, as more and more chocolate lovers discovered both the pleasure and health benefits of such chocolate bars.
And it's a trend that looks set to continue in 2018 and beyond.
The trend for intimate knowledge of where food has been sourced from has boomed in the 'gastro-pub' & restaurant industries, with many establishments now able to boast their own livestock etc.
And chocolate really isn't any different. True artisan chocolatiers have long appreciated the subtle differences of particular, cocoa growing regions, even down to the individual farm or cocoa plantation and the variety of cocoa grown. For them, sustainability of the cocoa source is crucial to not only their success, but the livelihoods of the communities surrounding the individual cocoa plantations.
Because the cocoa varies between harvests, the process of creating a premium chocolate bar is constantly changing, and why no two bars from the same estate may have the same flavour profile over different harvests.
The skill is in extracting an exciting and satisfying flavour profile from an individual cocoa harvest, to produce an outstanding and very often award-winning, range of chocolate bars.
This process is in sharp contrast to 'commercial' chocolate makers who will blend different cocoas to achieve a consistent flavour profile, no matter which bar you eat or couverture you bake with.
The health benefits of eating dark chocolate have long been catalogued but as our taste for the exotic combines with a growing concern for how ingredients are grown and produced, and not just the workers, but the environment their grown in, so chocolatiers continue to invest in not just the small co-operatives and cocoa farmers, but their environments too.
Which is good news for everyone from chocoholics to the occasional 'chocolate treat' & chocolate gift customer.
Chocolate Trading Co retails single origin chocolate bars and couvertures from over 30 different, artisan chocolate makers. Our online range includes organic, fairtrade, vegan and soya free chocolates to name but a few, and to make it easier to find the chocolate with taste or ingredient credentials you're interested in, we've a series of 'free-from' shop pages to help you choose.
Explore a little further and you'll find helpful chocolate tasting notes and chocolate flavour profiles on every bar and cooking chocolate. We've even included the origin of the cocoa/cocoas used in the individual bars and the variety/strain of cocoa that was used.
Our dedicated chocolatier pages, as well as showcasing that particular brand's chocolates, give you insights into the ethical trading policies of that chocolate maker, and the passion that drives them to produce the World's finest chocolate.
Why not join us in 2018 for your own chocolate journey of discovery?