White chocolate roses
Make, Bake & Decorate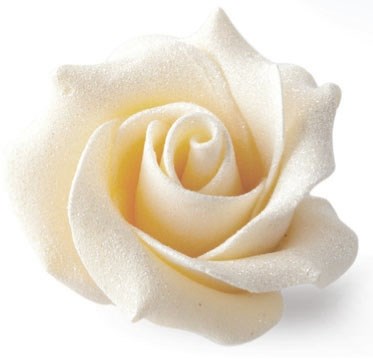 Pack sizePlease choose
Pack of 2 roses

In stock

£5.75

Box of 6 roses

In stock

£14.95

Box of 15 roses

Out of stock

£24.95

Trade box of 90 roses

Out of stock

£127.00
Reduced to clear
Box of 15 White Chocolate Roses - Best before 21.09.23

In stock

£9.95
Description
Ingredients
Reviews5
Description
These Chocolate Roses are Exclusive to Chocolate Trading Company
White chocolate roses (yes they are indeed edible chocolate roses) for decorating wedding and celebration cakes. These chocolate roses are handmade from high quality, Belgian chocolate to a superior finish to decorate the most exquisite of cakes.
A finely detailed, ivory white chocolate rose of unrivalled quality with a unique, soft shimmer finish. The white rose is from the same manufacturer as the white rosebud and so matches perfectly.
Why spend considerable time trying to create the perfect chocolate rose when you can buy these superior quality, handmade chocolate roses ready-made.
Each chocolate rose measures 45mm x 30mm approximately. Weighing approx. 20g each. Weights will vary due to this product being handmade.
Chocolate roses are available in small packs for home use or bulk, trade boxes for cake decorating businesses.
Due to the chocolate roses being hand made they may vary slightly from one batch to another. The image shows the typical style and shape.
These white chocolate roses are ideally paired with our white chocolate rosebuds and white chocolate cigarellos for decorating cakes. Not suitable for a gift
Only available for delivery to United Kingdom, Jersey & Guernsey
Ingredients
White chocolate rose ingredients
Minimum cocoa solids 21%.
Sugar
Cocoa butter
Whole milk powder
Lactose (Milk)
Skimmed milk powder
Emulsifier; Soya lecithin
Natural vanilla flavouring
Glucose syrup
Colour; E171
These chocolate roses may contain traces of nuts & gluten
Nutritional information per 100g:
Energy 2216kj / 529kcal
Fat 29g of which saturates 18g
Carbohydrate 60g of which sugars 51g
Protein 5.2g
Salt 212mg
Reviews5
5Absolute perfection!
Posted 13 January 2016 by Samantha
5Absolute perfection!
Posted 24 February 2012 by Sharon