Valrhona - Ivoire, white chocolate chips
By Valrhona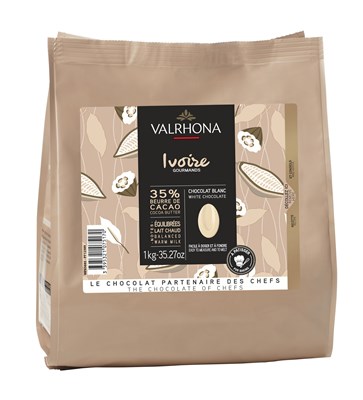 250g bag
£11.99
Earn 11 Loyalty Points
List price: £13.95Save £1.96
Net weight

250g
Small 1kg bag
£32.99
Earn 32 Loyalty Points
List price: £37.95Save £4.96
Net weight

1000g
Large 3kg bag
£82.85
Earn 82 Loyalty Points
List price: £89.84Save £6.99
Net weight

3000g
Description
Valrhona Ivoire white chocolate chips
An economically packaged bag of Ivoire, white chocolate couverture (cooking chocolate) chips. A superior quality white chocolate from Valrhona that's not too sweet with delicate flavours of fresh milk and vanilla.
Available in 250g, 1kg and 3kg bags. Image shows the Valrhona Ivoire 3kg bag.
These white chocolate chips of Valrhona quality and ease of use are created for wide use in baking, chocolate decoration and all applications of chocolate making.
Why not take a look at our chocolate recipes
Prices shown include VAT.
Standard 2-4 day delivery from £3.95.
Next day delivery is £5.95. Available for orders placed before 4pm.
Free Standard UK delivery on orders over £200
Dietary Information
Flavour profile
Bitter
Caramel
Malt
Sweet
Ingredients
Valrhona Ivoire ingredients
35% Cocoa Min. (cocoa butter)
Sugar
Cocoa butter
Whole milk powder
Emulsifier; Soya Lecithin
Natural vanilla extract
These white chocolate chips may contain traces of nuts, Egg proteins, Gluten & Peanut.
Nutritional information per 100g:
Energy 2456kj / 590kcal
Fat 40g of which saturates 25g
Carbohydrate 53g of which sugar 47g
Protein 5.2g
Salt 0.18g