Nutty Selection 12/18/24 Chocolate Gift Box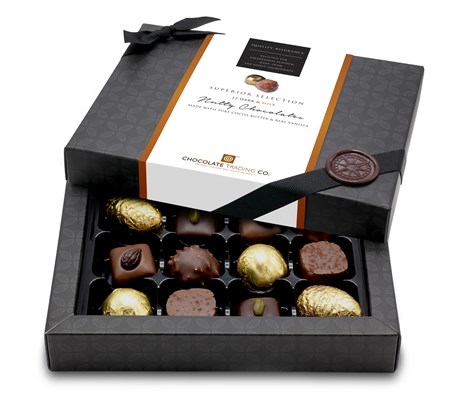 Superior Selection, Nutty Milk Chocolate Gift Box
Box sizePlease choose
12 chocolates

In stock

£13.95

18 chocolates

In stock

£20.95

24 chocolates

In stock

£27.95
Make it personal
Create your own unique gifts with our personalised gift service
Description
An exquisite selection of 6 different milk and dark chocolates on a nutty theme, chosen for their purity of ingredients and outstanding flavours.
Pralines, gianduja and marzipan chocolates containing almonds, hazelnuts and pistachio, each with their own recipe and tasting experience.
Presented in a sophisticated gift box complete with gros grain ribbon and embossed wax seal.
Ingredients
Contents vary.
Contains nuts, dairy, wheat & gluten and alcohol. May contain eggs.
Soya lecithin free.

Make it personal
Free gift message with every order, or add a greeting card from just 95p

Earn Loyalty Points on every order
Save them up and give yourself a treat!