Caramels 12/18/24 Chocolate Gift Box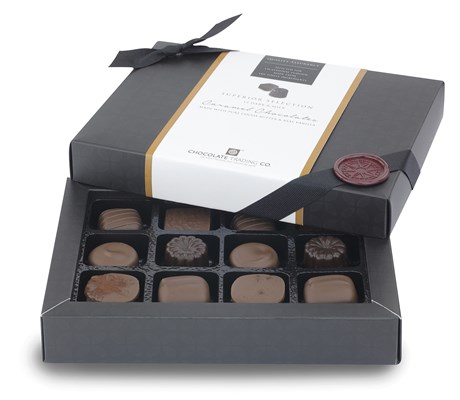 Superior Selection, Caramels Chocolate Gift Box
Box sizePlease choose
12 chocolates

In stock

£13.95

18 chocolates

In stock

£20.95

24 chocolates

In stock

£27.95
Make it personal
Create your own unique gifts with our personalised gift service
Description
A superior selection of milk and dark chocolates with a caramel theme. Salted, soft, chewy, crunchy and altogether mouth-wateringly delicious. This selection allows you to experience all forms and combinations of this popular recipe. Presented in a sophisticated gift box complete with gros grain ribbon and embossed wax seal.
This chocolate gift box contains;
Salted butter, chewy caramel from France using the finest Guerande salt, enrobed in milk chocolate
Milk chocolate shell encasing a very soft flavoured caramel with sea salt
Almond paste with apple and Calvados over a layer of chewy caramel enrobed in milk chocolate
A soft centre of caramelised butter within a dark chocolate shell
Almond and hazelnut praline with caramel pieces within a milk chocolate shell
A creamy ganache centre of milk chocolate and brown caramel within a shell of milk chocolate
Contents may vary. This special chocolate box is part of our Superior Selection range.
Ingredients
Ingredients may vary.
Contains dairy, wheat & gluten, alcohol and nuts. May contain eggs.
Soya lecithin free.