Milk chocolate cigarellos
Make, Bake & Decorate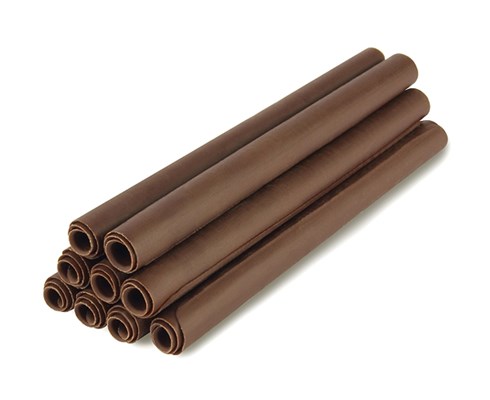 Pack sizePlease choose
Small box of 50

Out of stock

£11.95

Large box of 140

Out of stock

£22.78

Trade bulk box of 840

Out of stock

£85.41
Description
Ingredients
Reviews5
Storage/Shelf life
Description
Milk chocolate cigarellos for cakes
Our chocolate cigarellos are of a superior quality, and particularly neat finish.
Belgian high quality, milk chocolate cigarellos (cigarillos) for the decoration of celebration cakes, desserts and ice cream. Chocolate cigarellos are particularly popular for decorating wedding cakes and cakes for all special events. Each chocolate cigarello is approximately 9.5cm length x 0.9cm diameter.
Our cigarellos are of unrivalled quality and presentation with consistent uniformity.
How many chocolate cigarellos will I need?
Please note the quantity stated for each box is to be used as a guide only as they are packed by the legal requirement of Net weight. Given the nature of the product each cigarillo and batch will vary slightly.
For placing the chocolate cigarellos vertically around the side of a cake you can either measure the circumference of the cake tin (One inch (2.5cm) equates 3 cigarellos approximately) or use the cake tin guide below (which uses a diameter measurement of the tin, not circumference). Allow for some extra chocolate cigarellos for approximation and possible breakages.
One inch equates to 3 chocolate cigarellos, approximately.
Or simply use our round cake tin guide (round cake tins always state the diameter, not circumference).
6 inch round cake - requires approximately 57 chocolate cigarellos
7 inch round cake - requires approximately 66 chocolate cigarellos
8 inch round cake - requires approximately 75 chocolate cigarellos
9 inch round cake - requires approximately 85 chocolate cigarellos
10 inch round cake - requires approximately 94 chocolate cigarellos
Prices shown include VAT.
Supersaver 3-5 day delivery £2.95 (orders under £15 and 500g)
Standard 2-4 day delivery from £3.95.
Next day delivery is £5.95. Available for orders placed before 4pm.
Free Standard UK delivery on orders over £200
Only available for delivery to United Kingdom, Jersey & Guernsey
Ingredients
Milk chocolate cigarello ingredients
Min Cocoa solids 34.5%
• Sugar
• Cocoa butter
• Whole milk powder
• Cocoa mass
• Lactose
• Emulsifier; Soya Lecithin
• Natural vanilla
These milk chocolate cigarellos may contain nut & gluten traces
Nutritional information per 100g:
Energy 2276kj / 544kcal
Fat 32g of which saturates 20g
Carbohydrate 57g of which sugars 55g
Protein 5.5g
Salt 119mg
Reviews5
5Absolute perfection!
Posted 1 June 2017 by Anne
5Absolute perfection!
Posted 15 May 2014 by Joanne
5Absolute perfection!
Posted 22 September 2013 by Lisa
5Absolute perfection!
Posted 15 January 2012 by Sue
5Absolute perfection!
Posted 29 October 2011 by Hayley
5Absolute perfection!
Posted 10 September 2011 by Matt
5Absolute perfection!
Posted 27 February 2011 by Victoria
5Absolute perfection!
Posted 11 January 2011 by Samantha
Storage/Shelf life
Chocolate cigarellos do not require refridgeration.
Minimum Best Before date: 5 months.
Refridgeration is not advised unless there is no alternative to cool storage as high moisture levels within a fridge may affect the presentation. Place in an airtight container to avoid this.
Ideally stored in a cool, dry, dark place. Below 20 degrees centigrade and treated like any other store cupboard/pantry item.
As chocolate cigarellos are fragile we advise to not place any other objects on top of the box in storage and to handle carefully to avoid any breakages.

Perfect gifts for any occasion
Check out our gorgeous range of hampers

Make it personal
Free gift message with every order, or add a greeting card from just 95p