Callebaut strawberry chocolate blossoms (curls)
By Callebaut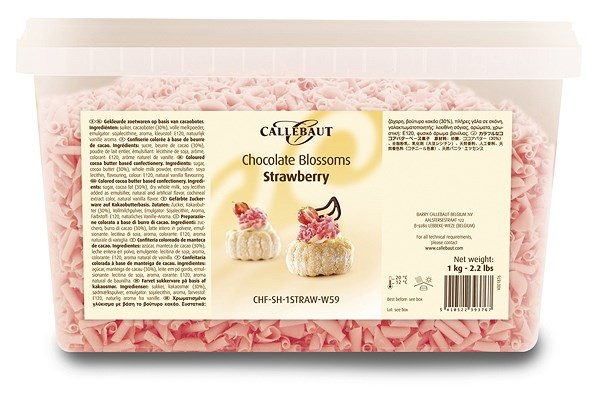 £23.22
Earn 23 Loyalty Points
List price: £26.87Save £3.65
Net weight

1000g
Description
Ingredients
Reviews5
Description
Strawberry chocolate blossoms (curls) made of high quality, chocolate from Callebaut, under their Mona Lisa Brand.
Created for wide use in cake decoration and desserts, from cupcakes sprinkles to celebration cakes and ice cream toppings.
1kg of chocolate curls at wholesale cost, packed within a resealable plastic tub. Packed under the Mona Lisa brand by Callebaut.
Ingredients
Strawberry chocolate curls
Sugar
Cocoa butter (min. 30%)
Whole milk powder
Emulsifier; Soya Lecithin
Colouring E120
Strawberry flavouring (artificial)
Natural vanilla flavouring
These chocolate curls may contain nut and gluten traces.
Nutritional information per 100g:
Energy 2374kj / 568kcal
Fat 35.6g of which saturates 21.5g
Carbohydrate 55.4g of which sugars 55.0g
Protein 6.1g
Salt 0.23g
May be supplied under Mona Lisa brand from Callebaut.
Reviews5
5Absolute perfection!
Posted 17 May 2013 by Joanne
5Absolute perfection!
Posted 8 May 2013 by Joanne