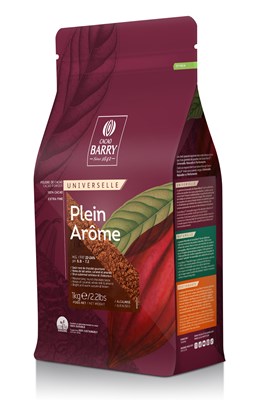 1kg bag
£15.21
Earn 15 Loyalty Points
List price: £17.45Save £2.24
Net weight

1000g
5kg bag
£69.71
Earn 69 Loyalty Points
List price: £87.60Save £17.89
Net weight

5000g
Description
Ingredients
Reviews5
Dutched Cocoa
Description
High quality, bulk cocoa powder at wholesale prices from Callebaut of Belgium, now under the Cacao Barry brand (same product as before). This cocoa powder is created for wide use in baking, decoration and all types of desserts, including hot chocolate.
Alkalised (Dutched) cocoa powder, without any off taste, with a medium brown colour.
Buy bulk Callebaut chocolates at wholesale prices with no account required, no minimum order and fast, next day delivery within the UK.
Remember to register to receive loyalty points on your orders in checkout, if you haven't done so already. If you are a regular customer or business ordering Callebaut in volume you can redeem these loyalty points and achieve considerable savings on all your subsequent orders.
Prices shown include VAT.
Standard 2-4 day delivery from £3.95.
Next day delivery is £5.95. Available for orders placed before 4pm.
Free Standard UK delivery on orders over £200
Ingredients
100% cocoa powder (Alkalised / Dutched so without off taste)
Certified Kosher
Nutrition Facts:
Nutrition per Serving Size 40g
Calories 200
Calories from fat 80
Total fat 9g - 14% Daily value
of which saturated 6g - 29% Daily value
of which Trans fat 0g - 0% Daily value
Cholesterol 0mg - 0% Daily value
Sodium 5mg - 0% Daily value
Total carbohydrate 20g - 7% Daily value
of which Dietary fibre 10g - 41% Daily value
of which Sugars 1g, sugar alcohol 0g
Protein 8g - 15% Daily value
Vitamin A 0%, Vitamin C 0%, Calcium 6%, Iron 90%
Percent Daily values are based on a 2,000 calorie diet.
Reviews5
5Absolute perfection!
Posted 22 June 2017 by Jonas
5Absolute perfection!
Posted 4 March 2015 by PRIYA
5Absolute perfection!
Posted 21 November 2014 by Nicky
5Absolute perfection!
Posted 9 January 2014 by Jo
Dutched Cocoa
The Dutch process results in a cocoa powder with a neutral pH (not acidic like natural cocoa). This means it cannot be used in recipes that use baking soda as the leavening agent, which relies on the acidity of the cocoa to activate it. Rather, Dutch process cocoa can be used in recipes that use baking powder for leavening.
Why is it called the dutch process?
The Dutch process was developed in the early 19th century by a Dutch chocolate maker Coenraad Johannes van Houten. This development greatly expanded the use of chocolate, which had been mostly used as a beverage in Europe until that time.
What does the Dutch or alkalise process do?
Dutch Process Cocoa or Alkalized Unsweetened Cocoa Powder has been treated with an alkali to neutralize its natural acidity. Due to this neutral nature it will not react with baking soda, it must be used in recipes calling for baking powder, unless there are other acidic ingredients in sufficient quantities used. It has a dark reddish-brown colour and is easy to dissolve in liquids.
In short the Dutch process has the following effects on the product:
1. Lowers the acidity levels
2. Increases solubility of the product
3. Enhances the overall color
4. Presents a smoother flavor