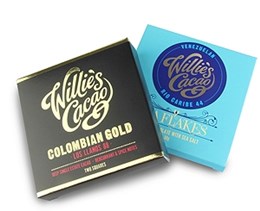 Two new single estate bars from Willies Cacao
Not one, but two exciting new bars from Britain's first bean-to-bar chocolatier Willie Harcourt-Cooze, who's chocolate rose to fame after Willie's Cacao was featured in a 2008 Channel 4 television series 'Willie's Wonky Chocolate Factory'.
Willie's Milk Chocolate with sea salt bar is a single-estate milk chocolate bar combined with sea salt flakes, created from Willie's own cocoa estate – the Hacienda San Augustine – in Venezuela.
With a distinctive flavour profile that provides notes of malt and caramel; the sweetness of the milk chocolate is balanced by the inclusion of sea salt.
Made using Trinitario cocoa (cocoa content 44%), this new indulgent bar from Willie's Cacao is soya lecithin, wheat, gluten and alcohol free and is suitable for vegetarians.
By contrast, Willie's Cacao Colombian Gold Los Llanos is a dark, powerful, full flavoured dark chocolate bar with a high cocoa content of 88%.
Bursting with notes of cherries and plums so characteristic of the Trinitario cocoa beans used to produce this bar, this bitter dark bar has a medium roast flavour profile.
The single-estate Trinitario cocoa is provided, on this occasion, from Los Llanos (hence the bars name) in Colombia.
The Colombian Gold bar is alcohol, dairy, soya lecithin, wheat & gluten free, making it a welcome additional choice to those with special dietary needs and is suitable for vegans and vegetarians alike.
You can read more about how Willie's chocolate adventure started, back in 1993, whilst he and his wife were on honeymoon in Venezuela. Whilst there, they heard that 'El Tesoro' – a 1000 acre cacao farm was for sale. The rest as they say is history. Click here to read the fascinating full story of Willie's Cacao.
Chocolate Trading Co stocks a wide range of Willie's Cacao bars including white chocolate bars, milk chocolate bars and dark chocolate bars and couverture bars. Click here to see our full range of Willie's Cacao.
For chocolate lovers who may be on restrictive diets or have special dietary needs e'g soya lecithin free or wheat & gluten free etc., we have a wide range of exquisite chocolate bars from some of Europe's most respected chocolatiers, which customers can browse easily via our 'free from' links (click here).