Autumn is always an exciting time as our seasonal Christmas chocolate gift deliveries start to arrive, and we have the chance to taste-test one or two new chocolates.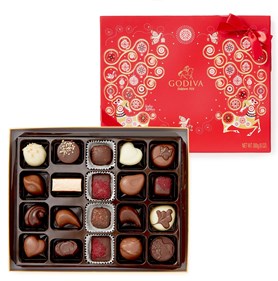 And this year is no exception with new chocolate delights and Christmas chocolate gift ideas arriving on an almost daily basis.
Here, we take a quick look at some new chocolates that have just arrived.
Godiva.
The luxury Belgian chocolate known world-wide and established in 1926, has 3 new Christmas chocolate gift ideas and 2 new single origin, high cocoa content, milk chocolate bars from Mexico, no less.
Their 25-day Advent Calendar sold out very quickly last Christmas, so be sure to place your order now, to avoid disappointment. It features a selection of 25 of Godiva's finest luxury Belgian chocolates.
For a more traditional chocolate selection box, Godiva's beautifully illustrated Christmas box is finished with red ribbon and contains 20 indulgent chocolates of approximately 18 different recipes.
Available in a 20 chocolate selection box and a smaller, 4 chocolate selection box which makes an ideal stocking filler for the chocoholic in your family.
There's also 2 new single origin, milk chocolate bars, with a high cocoa content of 42%. Silky smooth texture and delicate floral notes.
Charbonnel et Walker.
Chocolatiers since 1875 and long patronised by the Royal Family, Charbonnel et Walker continue a fine tradition of chocolate making with attention to detail and using only the finest ingredients. We've 8 new chocolates and seasonal favourites now available to purchase online.
These include Christmas favourites like their Advent Calendar, which features a fine assortment of milk and dark chocolates and 2, luxury Christmas crackers – each containing 3 mouth-watering truffles. They make the ideal table place setting for a special Christmas dinner.
Also available are their ever-popular English Rose & Violet Creams and a Milk Sea-Salt Caramel Truffle collection in its stunning gold box. There's also 2 new Hazelnut chocolates for those who enjoy the classic combination of fine chocolate and hazelnuts.
Just received is Charbonnel et Walker's Port & Cranberry Dark Chocolate Truffles – rich and indulgent in 'Charbonnel's signature, round truffle chocolate box.
Willie's Cacao.
Devon based bean-to-bar chocolatier, Willie Harcourt-Cooze's passion for chocolate is producing some remarkable chocolate bars and we have 3 of his latest chocolates now in stock.
A creamy Milk Chocolate bar infused with Passion Fruit and made using single-estate, Venezuelan, Rio Caribe cocoa. An exotically beautiful chocolate bar with a high cocoa content of 44%.
For white chocolate lovers, a new raspberry 'jewelled' chocolate bar with its sublimely creamy taste and natural zingy sweetness. Made using El Blanco white chocolate with a 36% cocoa content. This is definitely one chocolate bar to try this Autumn.
Lastly, Willie's Cacao have introduced another Chef's Drops to their popular chocolate couverture range.
Made from Colombian, Los Llanos, single estate cocoa, these superior quality dark chocolate drops with their 70% cocoa content are ideal for use in drinking chocolate through to baking, enrobing and making chocolate decorations. Notes of cherries & plums. They're also Soya & Dairy free.
We'll bring you more news as further new chocolates continue to arrive, but for the very latest updates, why not follow us on Twitter or our Facebook page?
We've also combined all of our newest chocolates and chocolate gift ideas on one handy website page (click here).
You'll find our
Christmas chocolate selection
which includes chocolate novelties for the children, stocking filler ideas and gourmet Christmas presents here