Nuancier, Crus de Plantation, dark chocolate box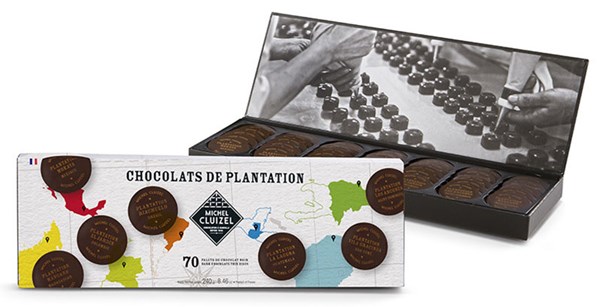 Le Nuancier, pure origins, chocolate tasting box
£32.95 incl VAT
Gift wrap?Please choose
No gift bag, thank you

Out of stock

Please include a gift bag

Out of stock

+ £1.95
Description
Ingredients
Reviews5
Description
A stunning collection of 70 single estate, dark chocolate tasting discs from 7 different cocoa plantations of the world. Each disc containing its own distinctive and unique characteristics. Michel Cluizel has even included tasting notes for the ultimate chocolate tasting experience.
These dark chocolate discs are displayed within a sophisitcated presentation box perfect for that dinner party offering or luxury chocolate gift.
Michel Cluizel of France
Often referred to as 'The Goldsmith of Chocolate', Michel Cluizel is one of the finest chocolate makers in the world today. Creating superior quality chocolates since 1947 and as a true 'cacaofevier' (bean to bar maker). Producing single origin chocolate bars & gifts made with only high quality, pure ingredients, without vegetable fats and using only 100% cocoa butter and Bourbon vanilla pod in replace of flavouring.
Read more about Michel Cluizel >
You can also choose to include a Luxury Michel Cluizel Gift Bag with this chocolate box to create the perfect gift presentation for just £1.95.
This high quality gift bag with a satin finish and rope handles displays the wording Michel Cluizel, Chocolatier.
Ingredients
Tasting box of 5 dark chocolate types (Min 64% cocoa) of pure origins from Origin Plantations: Mokaya, Los Ancones, Vila Gracinda, Mangaro, Maralumi. Cocoas (64% minimum)
Sugar
Cocoa butter
Whole milk powder
Bourbon vanilla pod
Emulsifier; Rapeseed lecithin
Colouring agents for decoration; E120-cl.75470, E171-cl.77891.
May contain traces of nuts and gluten.
Nutrition Facts:
Serv size: 11 pieces (about 40g), servings per container 6.
Calories 219
Fat cal. 162
Total fat 18g (26%DV)
Sat fat 11g (55%DV)
Sodium 2g (0%DV)
Total Carb 12g (6%DV)
Fiber 4g (15%DV)
Sugars 8g
Protein 3g (5%DV)
VItamin A (2%DV)
Vitamin C (0%DV)
Calcium (2%DV)
Iron (29%DV)
Percent Daily Values (DV) are based on a 2,000 calorie diet.
Not a significant source of Trans fat and cholesterol.
Energy (per 100g) 2284.6KJ / 546 kCal
Fat 44.9g
Sat fat 27.7g
Carbohydrates 29.4g of which sugars 19.5g
Protein 6.8g
Salt 0.01g
Reviews5
5Absolute perfection!
Posted 4 March 2011 by Nicky

Make it personal
Free gift message with every order, or add a greeting card from just 95p

Earn Loyalty Points on every order
Save them up and give yourself a treat!