Callebaut white chocolate pencils (200mm)
By Callebaut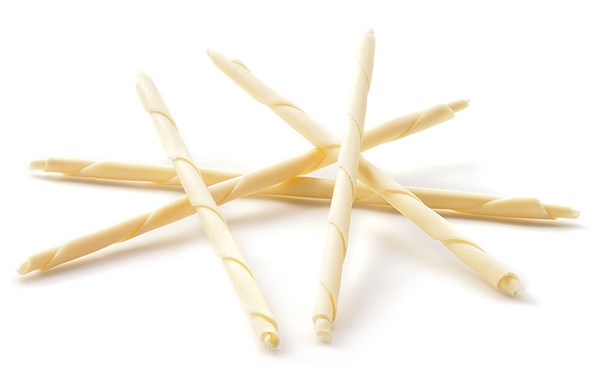 £26.50
Earn 26 Loyalty Points
List price: £29.76Save £3.26
Net weight

900g
Description
Ingredients
Reviews5
Description
These white chocolate pencils (110 pencils per box) are created for decorating cakes, in particular wedding cakes. Use around the sides of celebration cakes and wedding cakes or as high quality chocolate decorations for topping cupcakes and desserts.
Whilst similar to chocolate cigarellos in their decorative use, these chocolate pencils have an additional, decorative twist and are also much easier to cut to size to suit the height of your cake. Made from high quality Belgian chocolate. Labelled under the Mona Lisa brand by Callebaut.
110 chocolate pencils per box approximately
Measuring 200mm (20cm) long by 8mm (just under 1cm) width.

Due to the fragile nature of this product it is possible the box may contain some minor breakages.
How many chocolate pencils will I need to decorate a cake?
For placing the chocolate pencils vertically around the side of a cake you first need to measure the circumference of the cake or tin in cm's. As each chocolate pencil is around 1cm width you will require double the number. Plus some extra to allow for size variances in the chocolate pencils and any possible breakages.
Cutting the chocolate pencils to size
Using a hot knife, simply cut the chocolate pencils to size before fixing with either buttercream or ganache around the side of your cake.
Chocolate pencils are popular in all types of chocolate decoration and can be used either whole or cut to size for chocolate cupcake toppings, chocolate desserts, ice cream toppings, cappuccino and celebration cakes. As chocolate pencils vary in size the above is for approximate guidance only.
Only available for delivery to United Kingdom, Jersey & Guernsey
Ingredients
Sugar
Cocoa butter
Whole milk powder
Skimmed milk powder
Emulsifier; soya lecithin
Natural vanilla flavouring

Nutritional information per 100g:

Energy 531kcal / 2221kj

Fat 28.1g of which saturates 16.8g

Carbohydrate 61.3g of which sugars 60.8g

Protein 7.8g

Salt 0.21g
Reviews5
5Absolute perfection!
Posted 13 January 2016 by Samantha
5Absolute perfection!
Posted 22 June 2015 by Kerry
5Absolute perfection!
Posted 8 May 2013 by Joanne