Celebrate with a Chocolate Gift Cube
New to our Superior Selection range, are these gorgeous little Chocolate Gift Cubes.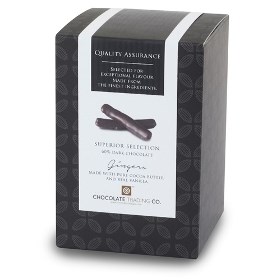 The perfect accompaniment to our Superior Selection chocolate boxes and bars, each Chocolate Gift Cube contains a single variety of either superior quality chocolates, enrobed, candied fruits or drinking chocolate.
They make an ideal chocolate gift for someone special or just for when you want to say thank you, and each box carries our quality assurance "Selected for exceptional flavour. Made from the finest ingredients". Why not 'mix & match' and put together you own combination of different Chocolate Gift Cubes, to make a very personal present for someone?
Complete your chocolate gift by adding a free gift message to any order, or choose from our range of greeting cards, complete with envelope for just 95p.
With prices from just £5.99, our Gift Cubes are a tempting treat to add to your next chocolate order, just for yourself.
These 6 new Chocolate Gift Cube varieties join our Superior Selection chocolate gift boxes and Superior Selection chocolate bars, all easily identifiable by their high quality, matching boxes.
Much care and attention has gone into choosing our Superior Selection Chocolate Gift Cubes, to bring you the very finest chocolates; Our new, Superior Selection, Gift Cube range includes:
Dark Chocolate Gingers – Superior quality sticks of candied ginger, covered in soya free, 60% cocoa content, fine dark chocolate.
Dark Chocolate Orangettes – Generous strips of flavour packed candied orange (with no excessive sugar used), enrobed in soya free, 60% cocoa content, fine dark chocolate.
Cherries in Kirsch – Whole Morello cherries that have been soaked for 1 year in oak barrels, encased in fine, soya free, dark chocolate, topped up with Kirsch. The ultimate cherry brandy (also available in 12, 18 & 24 Superior Selection boxes).
French Chocolate Truffles – Superior quality, dark chocolate truffles, made using single origin chocolate from Colombia, for an indulgent taste treat (also available in 12, 18 & 24 Superior Selection boxes).
Salted Butter Caramels – Delicious salted butter caramels enrobed in a soya free, fine milk chocolate. Soft, chewy, buttery and creamy. Pure heaven!
Drinking Chocolate Flakes – Delicious, superior quality hot chocolate flakes with a cocoa content of 72%. Soya free and containing no flavourings, vegetable fats or preservatives. Just fine cocoa, cane sugar, cocoa butter and Bourbon vanilla pod are used to create a truly traditional hot chocolate drink.
All of our new chocolate Gift Cubes are available to order online now, from our award-winning website.
Please note the Gift Cubes are sold by weight. Due to the individual nature of these fine chocolates, contents may vary. Gift Cube box outer dimensions: 110mm x 75mm x 75mm.
Shop for tempting chocolate gifts