Valrhona Equinoxe Collection enrobed nuts and fruit box 500g
By Valrhona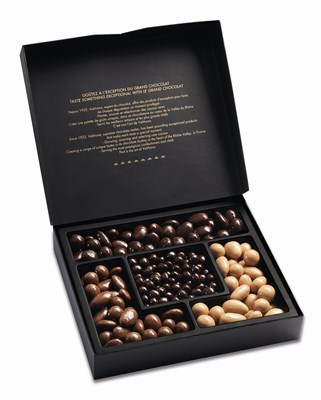 £40.95 incl VAT
CTVR96
No longer available
Earn 40 Loyalty Points
List price: £45.95Save £5.00
Net weight

500g
Description
Ingredients
Reviews5
Description
A gourmet chocolate box of assorted chocolate nibbles by Valrhona. Dark chocolate enrobed candied orange peel, milk, dark and 'dulcey' chocolate enrobed hazelnuts & almonds.
'Dulcey Blond' is a new type of chocolate. Not milk, dark or white, but 'Blond' chocolate. Biscuit, fudge and malted flavours, unlike any other chocolate.
Valrhona, a French master chocolate maker..
Since 1922 the vocation of Valrhona has been to create exceptional gourmet chocolate, while respecting the artisan's know-how and fine French taste. Dedicated to quality, Valrhona selects and purchases its cocoa beans directly from choice plantations, thus securing an exclusive supply of Grand Crus from South America, the Pacific Ocean and the Caribbean. Valrhona was one of the first chocolatiers to describe their chocolate in a similar fashion to wine with the labelling of such creations as grand cru, single origin, single estate and even vintage chocolate. Valrhona is regarded as being amongst the best of the few French chocolate makers today creating their chocolate from bean to bar (cacaofevier).
Ingredients
Collection enrobed nuts and fruit box ingredients:
Almonds, hazelnuts and candied orange zests coated in dark chocolate (55% cocoa minimum, pure cocoa butter), and almonds and hazelnuts coated in milk chocolate (40% cocoa minimum, pure cocoa butter), or in white chocolate (35% cocoa butter minimum).
Ingredients: sugar, cocoa beans, hazelnuts from Italy 15.3%, almonds from Spain 14.5%, cocoa butter, cubes of powdered candied orange peels (orange peels, sugar, glucose syrup, dextrose) 7.1%, whole milk powder, brown sugar, dried skimmed milk, whey (milk), glazing agents: maltodextrin, shellac, butter (milk), emulsifier: soya lecithin, natural vanilla extract, barley malt extract.
This product may contain egg proteins and peanut.
Nutritional Facts:
Average nutritional values per 100g
Energy 2450KJ / 590kCal
Fat 44g of which saturated fat 17g
Carbohydrate 35g of which sugars 34g
Protein 11g
Salt 0.12g
Reviews5
5Absolute perfection!
Posted 21 April 2016 by Pam