Superior Selection, 72% drinking chocolate flakes pouch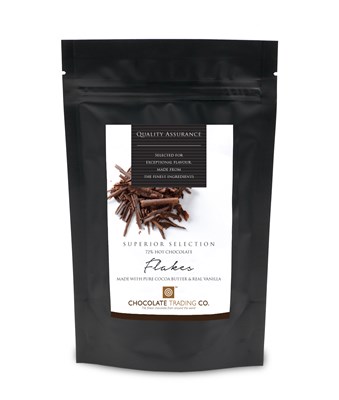 £4.25 incl VAT
Earn 4 Loyalty Points
Net weight

100g
Description
Ingredients
How to make..
Description
Superior quality drinking chocolate flakes, created from the purest of ingredients such as fine cocoa, cane sugar and Bourbon vanilla pod. Containing no flavourings, vegetable fats or preservatives.
In a handy, re-sealable pouch. Contains approximately 4 to 5 servings.
These 72% chocolate flakes make a really traditional, hot chocolate drink of pure indulgence and most appreciated by true chocolate connoisseurs. Also ideal for topping desserts and warm drinks.
Flavour profile
Acidity
Bitter
Fruit
Roast
Ingredients
Dark chocolate pouch, Min. 72% cocoa solids
Cocoa
Cane sugar
Cocoa butter
Bourbon vanilla pod
May contain traces of nuts, milk & gluten.
Nutritional information per 100g:
Energy 2391kj / 572.01kcal
Fat 42.66g of which saturates 26.35g
Carbohydrate 43.72g of which sugars 28.93g
Protein 7.57g
Salt 0.02g
How to make..
DIRECTIONS:
Measure out enough milk to fill your cup three-quarters full.
Pour into the pan and place it on a low heat. Do not allow the milk to boil. Alternatively heat in the microwave.
Add 1-2 heaped dessert spoons of chocolate flakes per serving and whisk with the milk until frothy. (Pouch contains approximately 9 heaped dessert spoons).
Make sure the milk is hot, but not boiling. Carefully pour the hot chocolate mixture into your cup.
Top with a spoonful of whipped cream and a few more chocolate flakes for decoration and add sugar to taste.

Make it personal
Free gift message with every order, or add a greeting card from just 95p

Earn Loyalty Points on every order
Save them up and give yourself a treat!