Connoisseur's Mix 12/18/24 Chocolate Box, No.2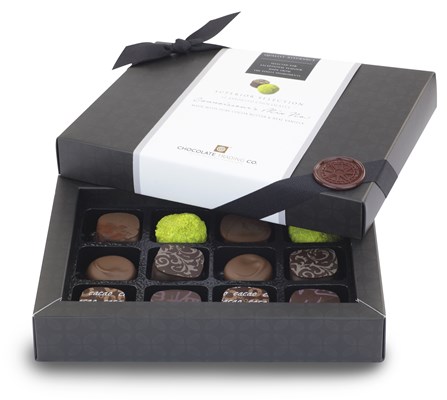 Choose a gift box size
Box sizePlease choose
12 chocolates

In stock

£10.95

18 chocolates

In stock

£16.95

24 chocolates

In stock

£21.99
Description
The Connoisseurs Mix Box is an exciting twist on our other Superior Selection gift boxes in that the contents change constantly throughout the year allowing a different tasting experience each time.
A superior selection of the finest chocolates chosen for their purity of ingredients and outstanding flavours. Presented in a sophisticated gift box complete with gros grain ribbon and embossed wax seal.
Each edition of the box is numbered so you know when the contents have changed. The chocolates selected for inclusion are based on availability and so offering an assortment in various combinations and quantities. For the flexibility on the variations of chocolates included we are able to discount by 25% off the usual price. We feel this box would appeal to those who would like to order on a regular basis as a treat for themselves and at a greatly reduced price. Of course this special box would also make a great gift.
Typically containing 6 different recipes but this can vary.
Image will vary dependant on the contents.
Single estate 'Mokaya' (Mexico) dark chocolate ganache
A milk chocolate almond and hazelnut praline with added caramel pieces
Sweet Croquant (caramelised almonds and sugar) filled with an almond and hazelnut praline
Milk chocolate shell with a soft salted caramel centre
Dark chocolate shell with a milk chocolate ganache infused with natural passion fruit
Dark chocolate ganache combined with Yuzu fruit ( a rare citrus from East Asia)
Ingredients
Contents vary.
Contains nuts, dairy, wheat & gluten and alcohol. May contain eggs.
Soya lecithin free.
This product may contain traces of Cherry Stones.

Make it personal
Free gift message with every order, or add a greeting card from just 95p

Earn Loyalty Points on every order
Save them up and give yourself a treat!