Premier Cru, chocolate tasting gift box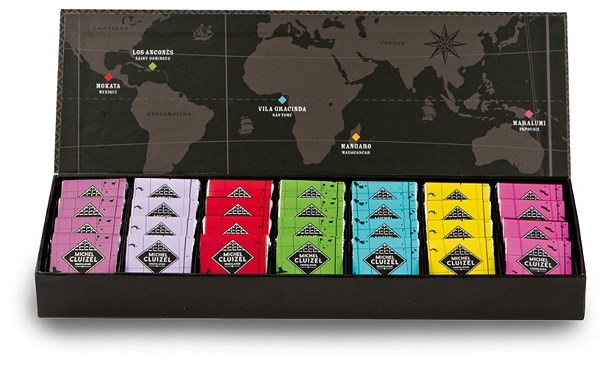 £14.95 incl VAT
Luxury Gift Bag?Please choose
No gift bag, thank you

In stock

Please include a gift bag

In stock

+ £1.95
Description
A sophisticated chocolate tasting box, containing the full collection of milk and dark Premier Cru's created by Michel Cluizel.
Experience the unique characteristics and fine flavours of each single estate chocolate presented inside this beautiful gift box. Contains 28 neapolitans of: Los Ancones, Mokaya, Vila Gracinda, Maralumi and Mangaro. Complete with tasting notes.
You can also choose to include a Luxury Michel Cluizel Gift Bag with this chocolate box to create the perfect gift presentation for just £1.95.
This high quality gift bag with a satin finish and rope handles displays the wording Michel Cluizel, Chocolatier.
Dietary Information
Cocoa Estate
Los Ancones
Mangaro
Maralumi
Mokaya
Vila Gracinda
Ingredients
• Los Ancones (Ile de Saint Domingue)
• Mokaya (Mexico)
• Vila Gracinda (Ile de Sao Tome)
• Mangaro (Madagascar)
• Maralumi (Papua-New Guinea)
• Cane sugar
• Cocoa butter
• Whole milk powder
• Bourbon vanilla pod
May contain traces of nut and gluten.
Nutritional Facts:
Serv size: 8 pieces (about 40g), servings per container: 3.5
Calories 231
Fat cal. 153
Total fat 17g (24%DV)
Sat fat 11g (53%DV)
Sodium 7mg (0%DV)
Total Carb 13g (5%DV)
Fiber 3g (13%DV)
Sugars 13g
Protein 3g (6%DV)
Vitamin A (3%DV)
Vitamin C (0%DV)
Calcium (2%DV)
Iron (25%DV)
Percent Daily Values (DV) are based on a 2,000 calorie diet.
Not a significant source of Trans fat and cholesterol.
Energy (per 100g) 2418.79KJ / 578.66 kCal
Fat 42.54g
Sat fat 26.3g
Carbohydrates 33.33g of which sugars 33.24g
Protein 7.77g
Salt 0.04g

Make it personal
Free gift message with every order, or add a greeting card from just 95p

Perfect gifts for any occasion
Check out our gorgeous range of hampers