Michel Cluizel Chocolate Bar Mini Gift Hamper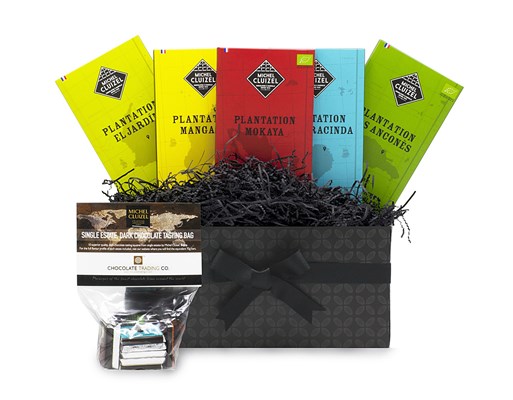 £42.60 incl VAT
Includes FREE delivery
Earn 42 Loyalty Points
Net weight

400g
Description
Includes FREE Standard delivery (UK Mainland).
This superb mini hamper, includes five "single estate" dark chocolate 70g bars by Michel Cluizel from prized plantations in Mexico, Madagascar, Caribbean, Sao Tome and Papua New Guinea, and 10 tasting squares, all presented within our sophisticated mini hamper box, hand-finished with ribbon & ready for gift giving.
Experience the diverse characteristics of each chocolate bar; (tasting squares may include some milk chocolate)
(Please note; A Free Delivery is applied to this product alone and so not applicable to any additional items not including a free delivery that are added to your basket)
Hamper box size: Length 21cm x Width 12cm x Height 10cm. Contents may vary.
Michel Cluizel of France
Often referred to as 'The Goldsmith of Chocolate', Michel Cluizel is one of the finest chocolate makers in the world today. Creating superior quality chocolates since 1947 and as a true 'cacaofevier' (bean to bar maker). Producing single origin chocolate bars & gifts made with only high quality, pure ingredients, without vegetable fats and using only 100% cocoa butter and Bourbon vanilla pod in replace of flavouring.
Ingredients
Michel Cluizel bar offer ingredients:
Cocoa (70-75%)
Cane sugar
Cocoa butter
Bourbon vanilla pod
May contain traces of nut, milk and gluten.