Nuancier, Grand Teneurs, chocolate tasting box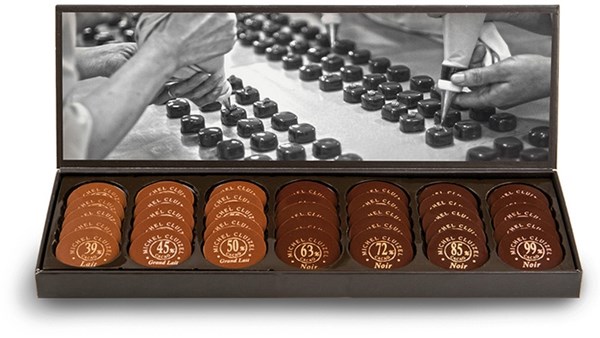 Le Nuancier, cacao, chocolate tasting box
£29.95 incl VAT
PackagingPlease choose
No gift bag, thank you

Out of stock

Please include a gift bag

Out of stock

+ £1.95
Description
A Michel Cluizel chocolate tasting experience in a sophisticated presentation box.
A beautifully presented collection of 70, milk and dark chocolate tasting discs with varying cocoa contents from 33% milk all the way up to 99% dark chocolate. An interesting opportunity to discover your own prefered level of cocoa content from the finest French chocolate maker.
Michel Cluizel of France
Often referred to as 'The Goldsmith of Chocolate', Michel Cluizel is one of the finest chocolate makers in the world today. Creating superior quality chocolates since 1947 and as a true 'cacaofevier' (bean to bar maker). Producing single origin chocolate bars & gifts made with only high quality, pure ingredients, without vegetable fats and using only 100% cocoa butter and Bourbon vanilla pod in replace of flavouring.
Read more about Michel Cluizel >
You can also choose to include a Luxury Michel Cluizel Gift Bag with this chocolate box to create the perfect gift presentation for just £1.95.
This high quality gift bag with a satin finish and rope handles displays the wording Michel Cluizel, Chocolatier.
Ingredients
Dark chocolate: 60% cocoa, 72% cocoa, 85% cocoa, 99% cocoa. Milk chocolate: 33% cocoa, 45% cocoa, 50% cocoa.
• Cocoas
• Cane sugar
• Cocoa butter
• Whole milk powder (for milk chocolate)
• Bourbon vanilla bean
• Spices
• Colouring agents for decoration; E102-ci.19140/110-ci.15985/171-ci.77891.
May contain traces of nuts, milk and gluten.
Nutrition Facts:
Serv size: 11 pieces (about 40g), servings per container: 6
Calories 236
Fat cal. 164
Total fat 18g (26%DV)
Sat fat 11g (56%DV)
Sodium 9mg (0%DV)
Total Carb 11g (4%DV)
Fiber 3g (13%DV)
Sugars 11g
Protein 3g (7%DV)
Vitamin A (3%DV)
Vitamin C 1%DV)
Calcium (2%DV)
Iron (26%DV)
Percent Daily Values (DV) are based on a 2,000 calorie diet.
Not a significant source of Trans fat and cholesterol.
Energy (per 100g) 2470.3KJ / 591 kCal
Fat 45.7g
Sat fat 28.2g
Carbohydrates 28.0g of which sugars 27.9g
Protein 8.7g
Salt 0.05g

Perfect gifts for any occasion
Check out our gorgeous range of hampers

Make it personal
Free gift message with every order, or add a greeting card from just 95p