Booja Booja - Rum Sozzled Sultana Chocolate Truffles
By Booja Booja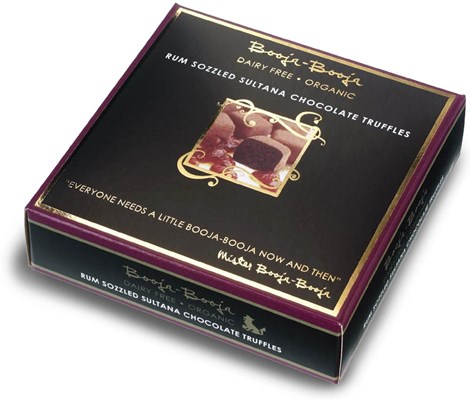 £6.95 incl VAT
Earn 7 Loyalty Points
Net weight

104g
Description
A cocoa dusted, dark chocolate truffle with a deliciously rich, chocolate ganache centre made with rum soaked sultanas.
This box contains 9 chocolate truffles.
About Booja Booja
Booja Booja from Norfolk in England make award winning, chocolate truffles of superior quality. All their chocolate truffles are organic, vegan, dairy and gluten free.
Dietary Information
Flavour profile
Acidity
Bitter
Fruit
Roast
Ingredients
Rum Sozzled Sultana Chocolate Truffles Ingredients
Dark chocolate; Min. Cocoa solids 55%
Cane sugar
Vanilla
Sultana
Coconut Oil
Rum
Agave Syrup
Cocoa powder
Contains traces of nut.
Dairy Free - Vegan - Organic - Gluten free.
Nutrition Facts:
Nutritional information per 100g
Energy 505kCal / 2044KJ
Fat 34g of which saturates 25g
Carbohydrate 40g of which sugars 38g
Protein 3.9g
Sodium 3.5mg
Salt 0.01g